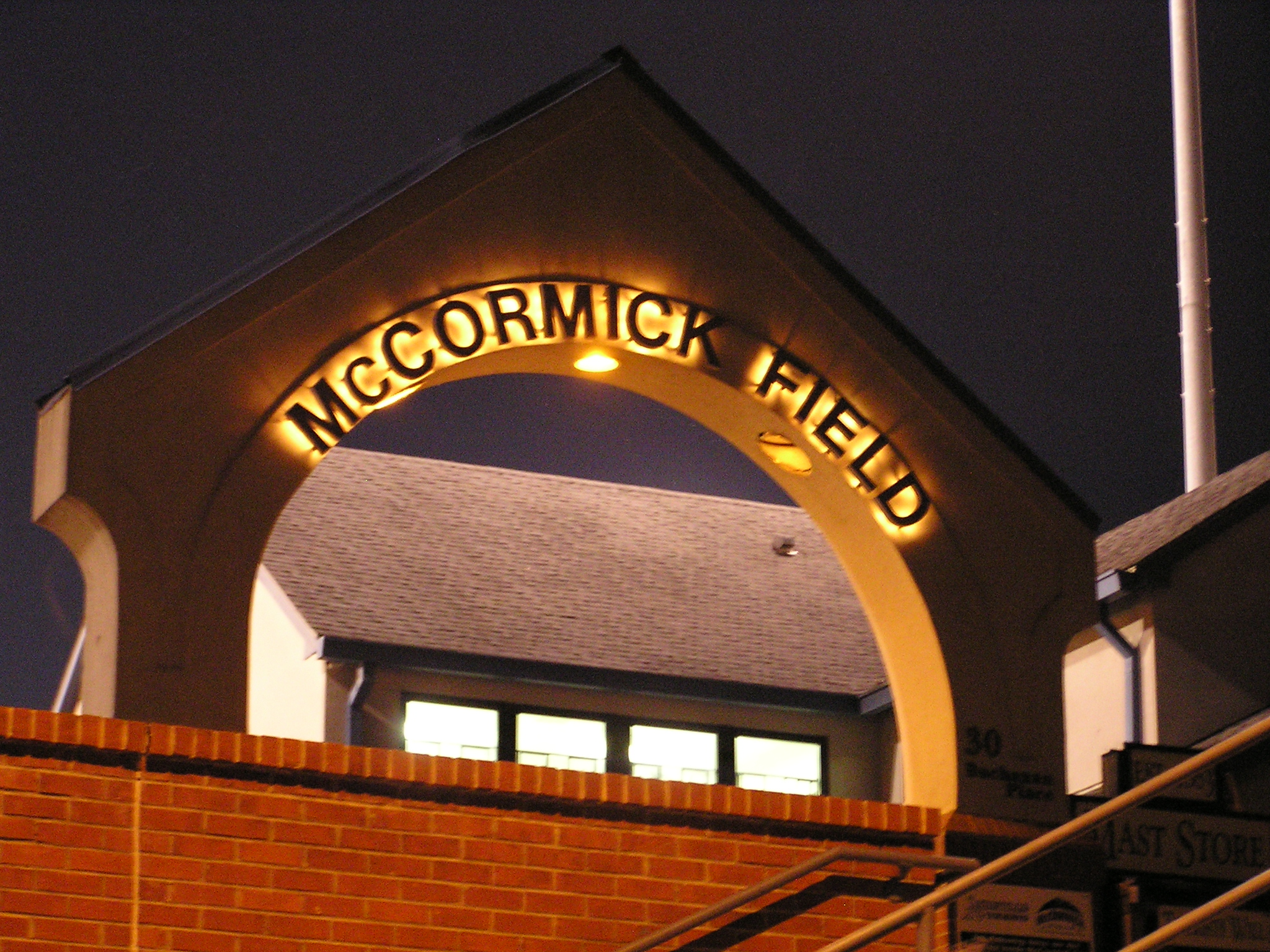 TEAM::: ASHEVILLE TOURISTS
LOCATION ::: ASHEVILLE, NORTH CAROLINA
MY FIRST VISIT ::: JUNE 5, 2008
OPPONENT ::: HICKORY CRAWDADS
LEVEL ::: SOUTH ATLANTIC LEAGUE 'A'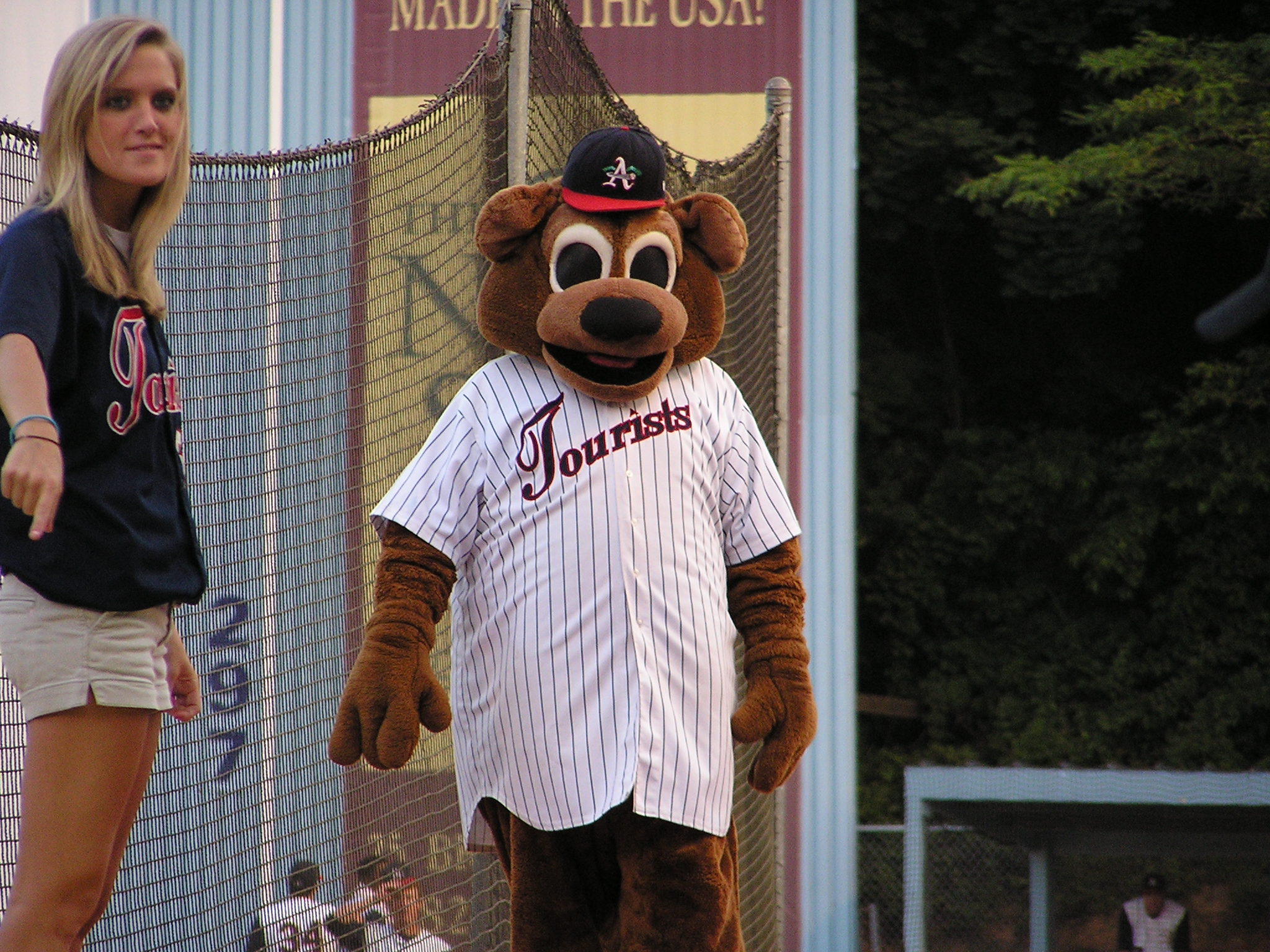 RATINGS
BALLFIELD ::: A
SCOREBOARD ::: B
FOOD ::: B
FACILITIES ::: C
MASCOT ::: C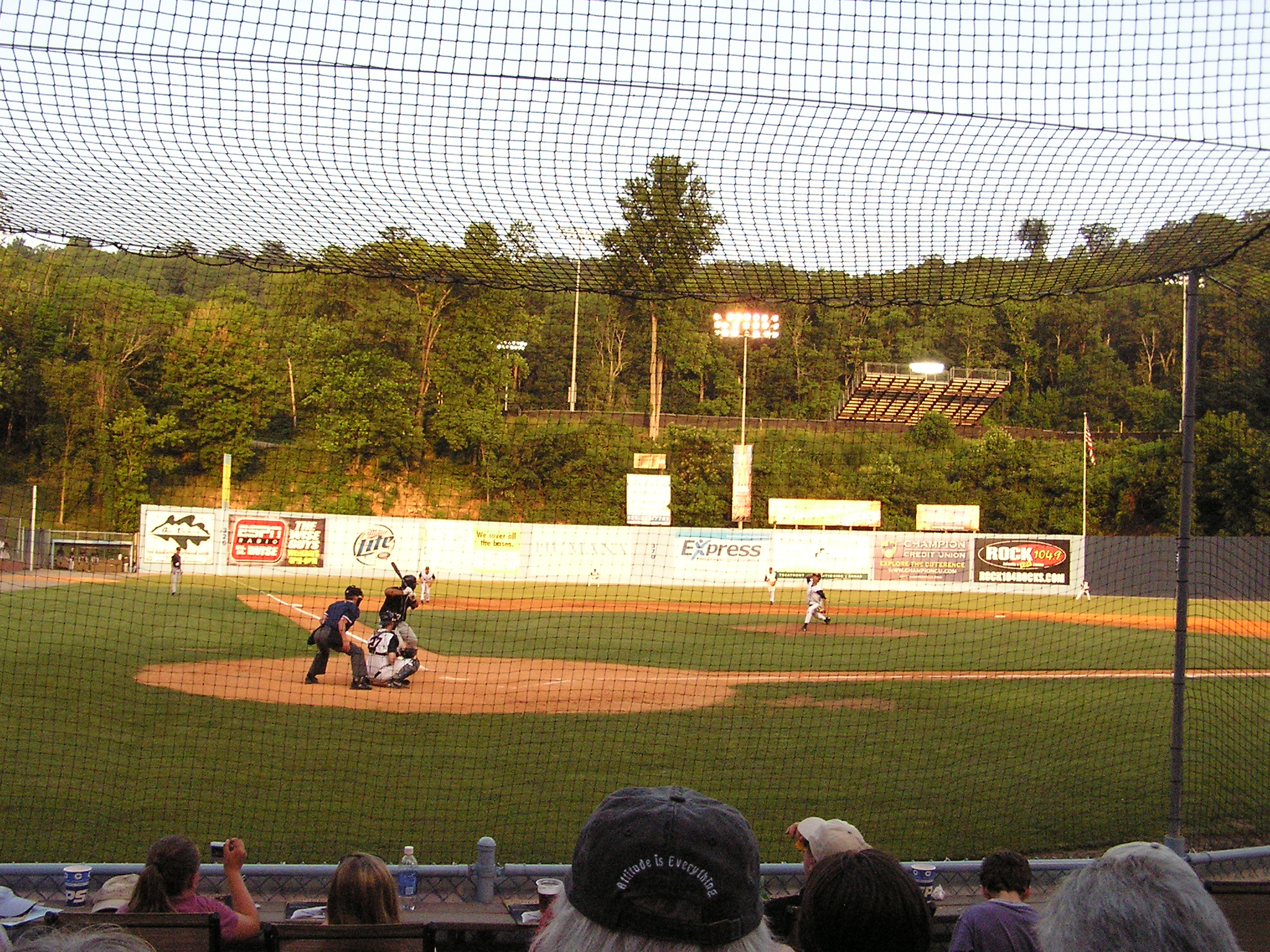 MY TAKE ON THE PARK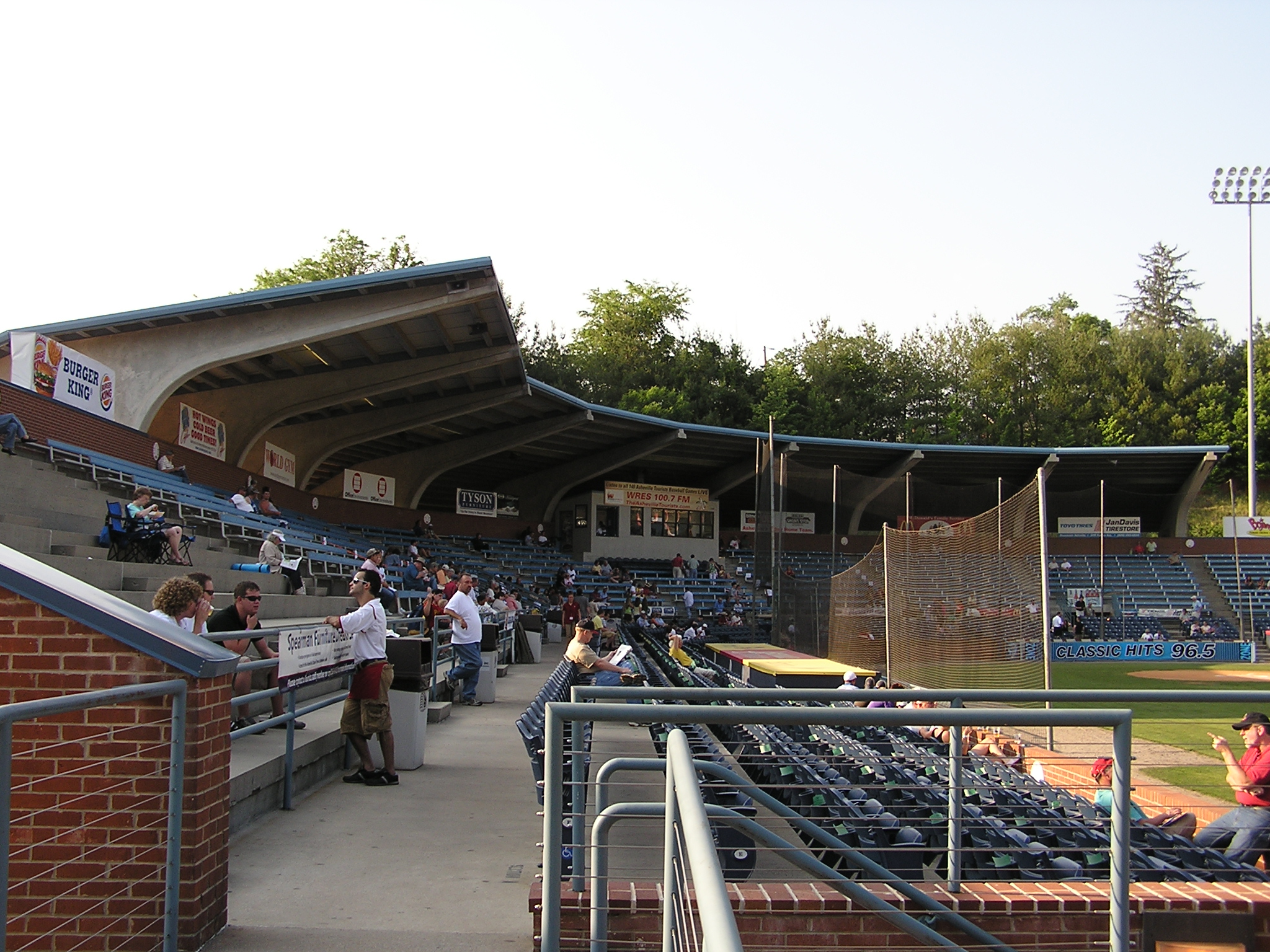 WHAT A DIFFERENCE $1 BEER NIGHT CAN MAKE TO A PARK. McCORMICK FIELD STRIKES ME AS THE KIND OF PLACE THAT SEES ABOUT 1000 PEOPLE FOR A GAME AND NOT MUCH ELSE GOES ON. ADD $1 BEER NIGHT AND 3500 PEOPLE SHOW UP, I WOULD SAY 500 OF THEM NEVER MADE THEIR WAY INTO THE SEATING AREA, MAKING FOR A DIFFERENT TYPE OF ATMOSPHERE.
ARRIVING AT THE PARK I ALMOST WISHED THEY HAD PAID PARKING, I HAD TO PARK ON A GRASS LOT. IF I HAD ARRIVED LATER I MAY HAVE HAD TO PARK IN TOWN SOMEWHERE.
HOWEVER, IF THEY HAD A SPACIOUS LOT THAT THEY CHARGED $3 FOR I
WOULD COMPLAIN TOO, BUT I WOULD HAVE HAD A PLACE TO PARK.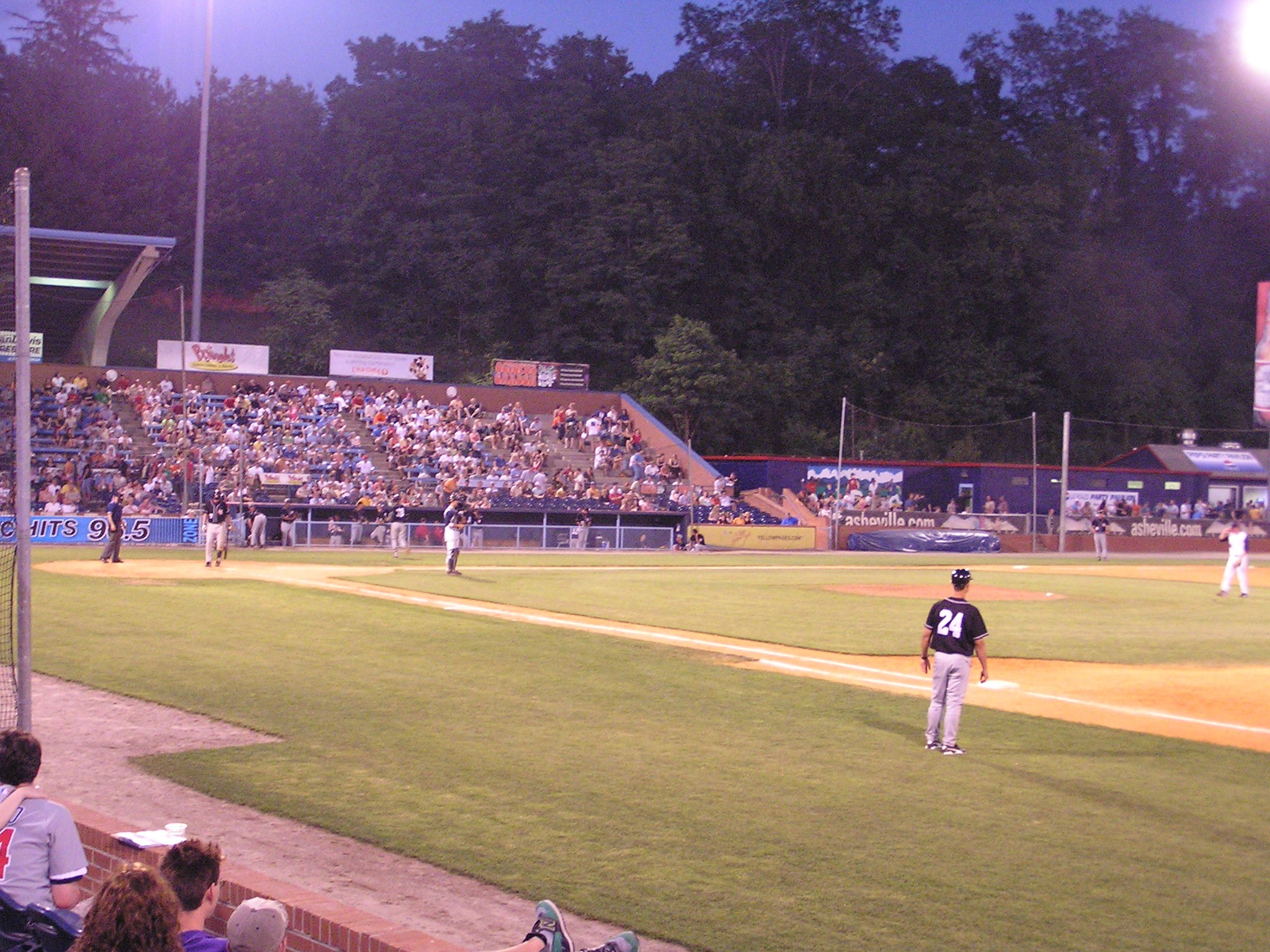 IT IS KIND OF STRANGE HERE IN THAT THE WILL CALL WINDOW IS OUTSIDE THE GATE BUT THE TICKET WINDOW IS INSIDE THE GATE. STOP BY THE TICKET WINDOW AND THEN HAVE IT SCANNED AT THE BACK OF THE LINE. ONCE INSIDE, THE PLACE IS A LOT LIKE NEW BRITAIN IN THAT IT HAS TWO SETS OF STAIRS TO THE FIELD, CONCESSION AREAS ARE ALL AROUND THE CONCOURSE AREA BUT NONE HAVE A VIEW OF THE FIELD.
UP THE STAIRS TO THE SEATING AREA, A NARROW AISLEWAY FEEDS THE LOWER 10 ROWS OF BOX SEATS AND THE GENERAL ADMISSION AREA. THIS AREA IS ALL BENCHES WITH BACKS, SO AT LEAST YOU CAN LEAN BACK EVERY NOW AND THEN.
TED E. TOURIST, THE MASCOT, SPENT MOST OF THE GAME SEATED BEHIND THE DUGOUT WAITING TO DANCE ON TOP OF THE DUGOUT OR RUN THE BASES WITH A 5 YEAR OLD FAN.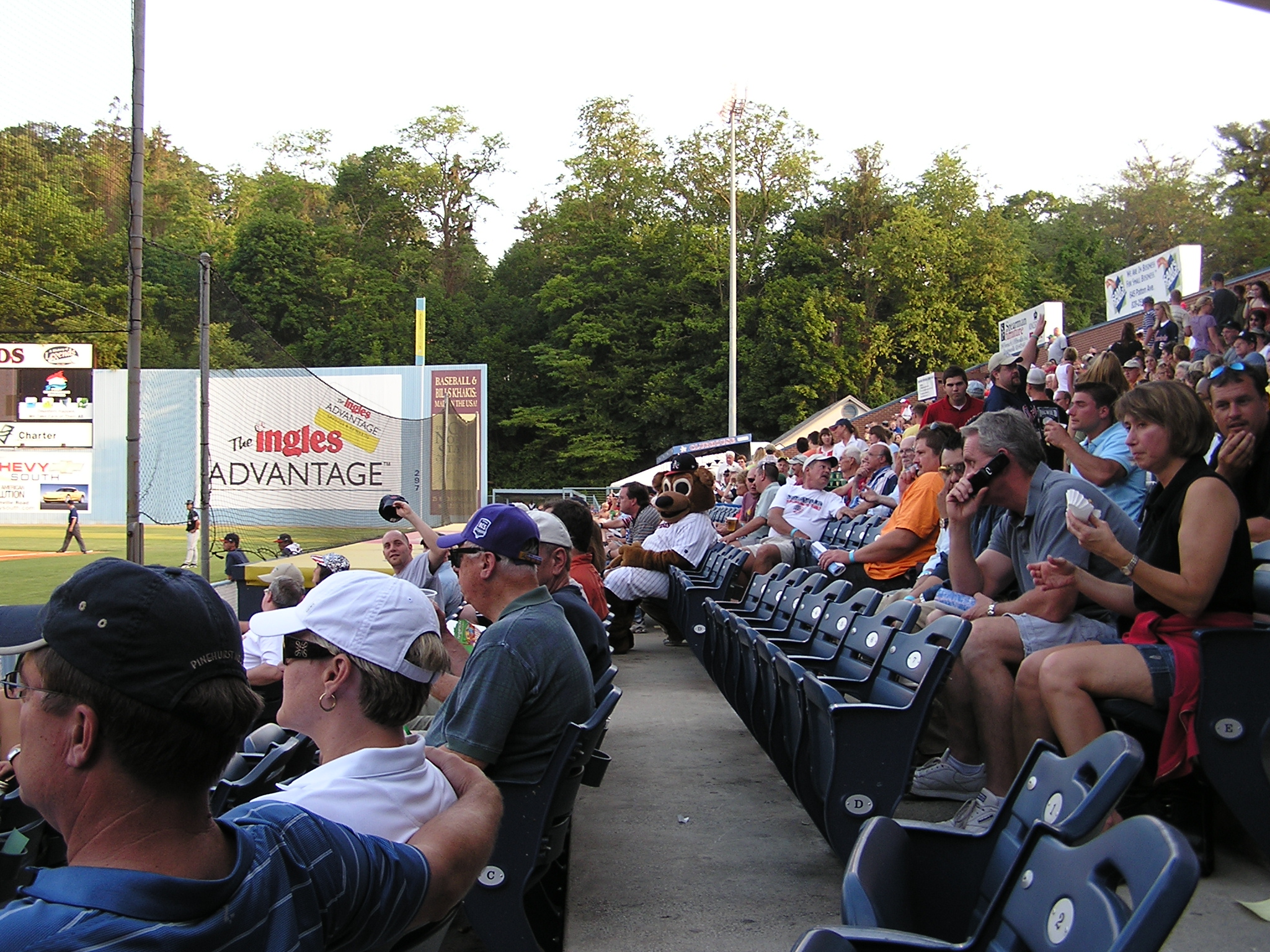 THE VIDEO BOARD HERE WAS OUT OF SERVICE ON THE NIGHT I ATTENDED SO I HAD THE LINE BOARD ONLY, I WAS OK WITH THAT. IN LEFT FIELD A PITCH
SPEED BOARD WAS UP.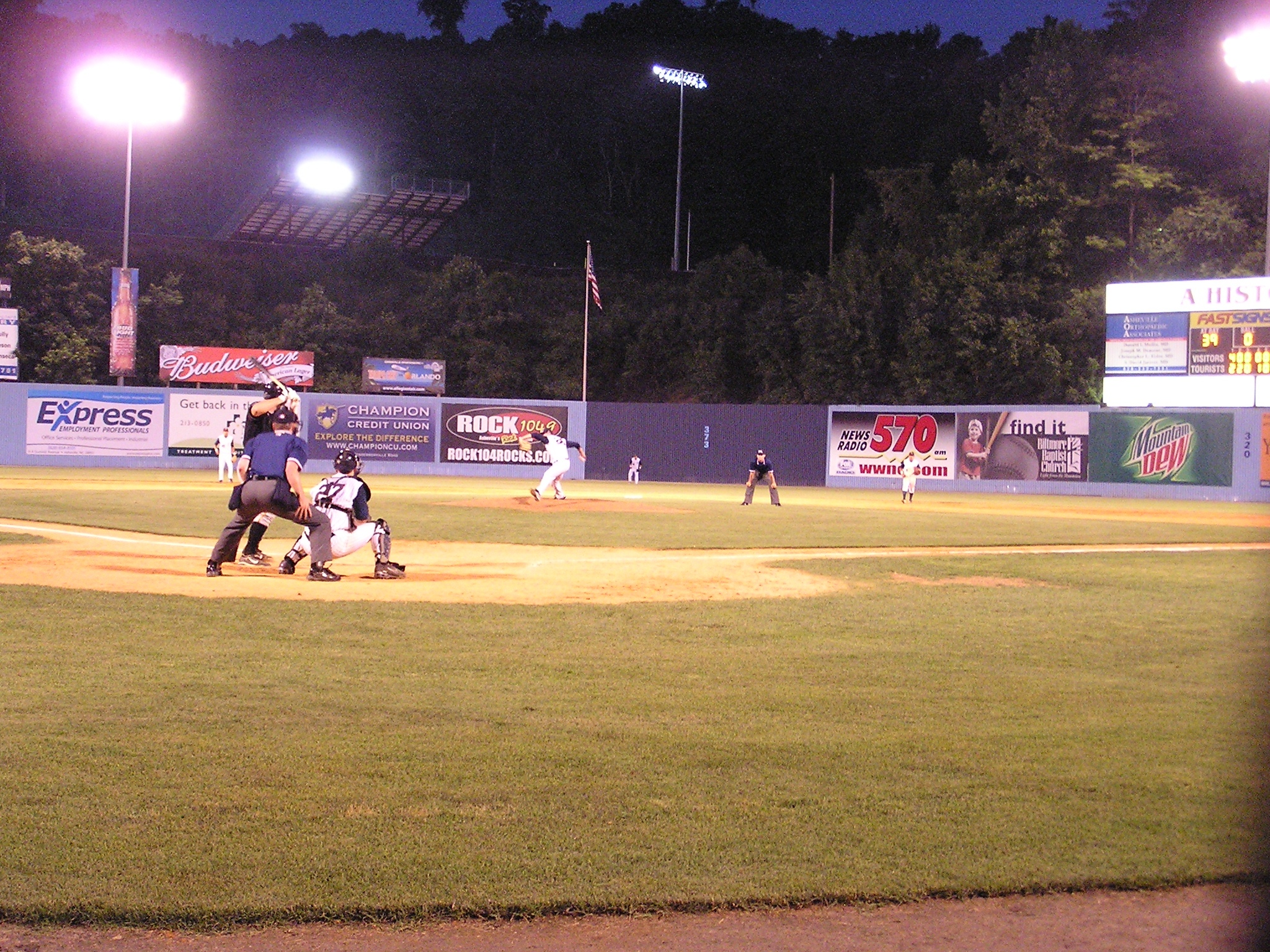 McCORMICK FIELD IS REALLY A COOL KIND OF PLACE. BUILT INTO THE HILL
THE CONCOURSE AREA ON THE 3RD BASE SIDE HAS A MAN MADE WALL BUILT TO KEEP THE MOUNTAIN UP. TREES SURROUND THE EXTERIOR OF THE OUTFIELD AND THE STANDS ARE COVERED BY A ROOF, ALL KEEPING McCORMICK FIELD COOL ON
A HOT SUMMER NIGHT.
I ONLY WONDER WHAT KIND OF PLACE THIS WOULD BE ON A DIFFERENT NIGHT. I WILL SAY, FOR ALL THE PEOPLE AT THE GAME AND ALL OF WHOM WERE CONSUMIMNG THE $1 BEER, THE CROWD WAS VERY WELL BEHAVED AND I DID NOT HEAR A FOUL WORD THE WHOLE NIGHT.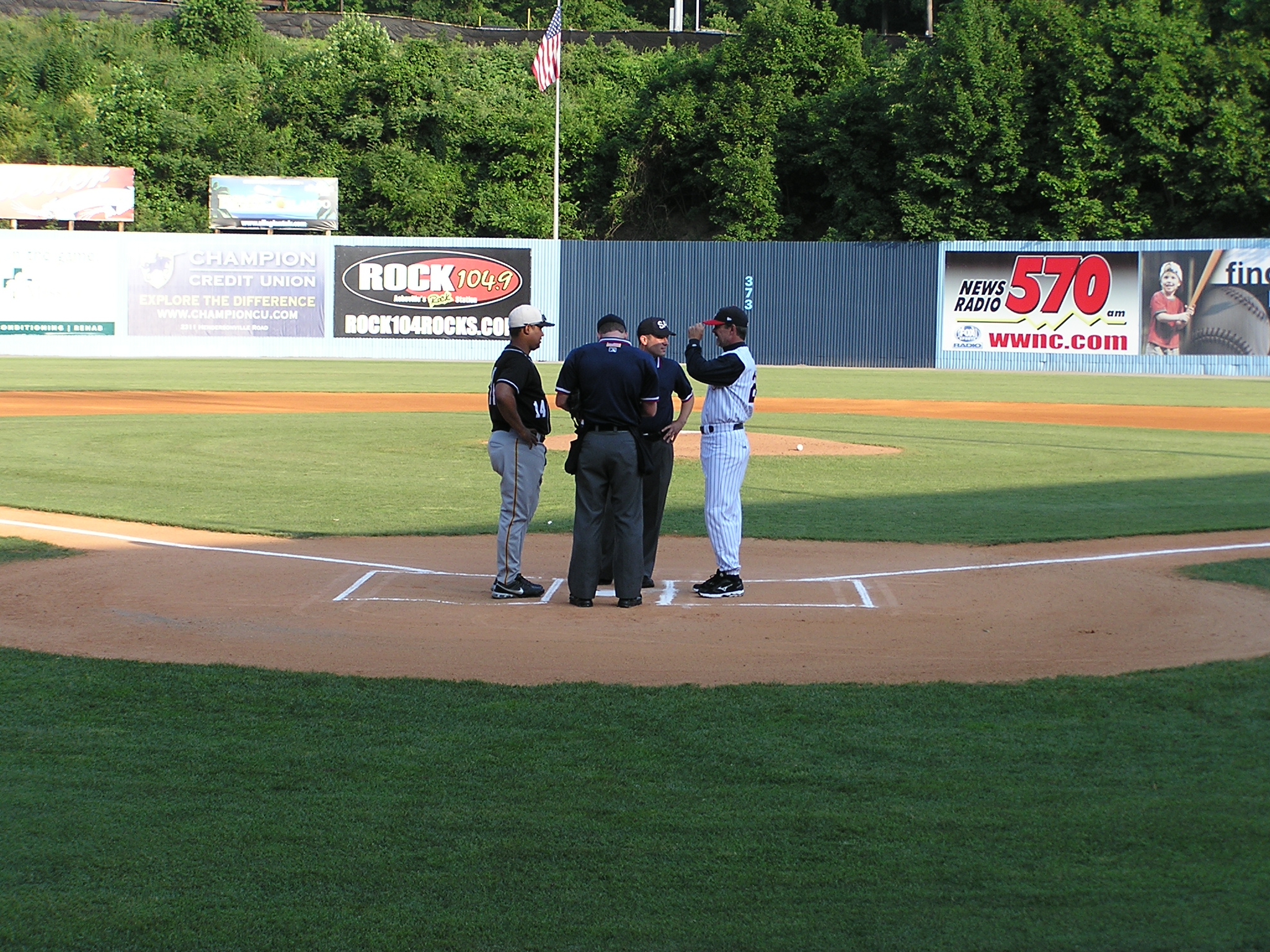 THE LINE UPS
HICKORY CRAWDADS MANAGER :::
18 GARY GREEN
ASHEVILLE TOURISTS MANAGER :::
20 JOE MIKULIK
HICKORY CRAWDADS
32 Albert Laboy lf
35 Matt Cavagnaro 2b
33 Miles Durham 1b
27 Erik Huber rf
38 Bobby Spain 3b
39 Andrew Walker c
40 Ronald Pena dh
12 Keanon Simon cf
48 Victor Alvarez ss
43 Rafael De Los Santos p / LP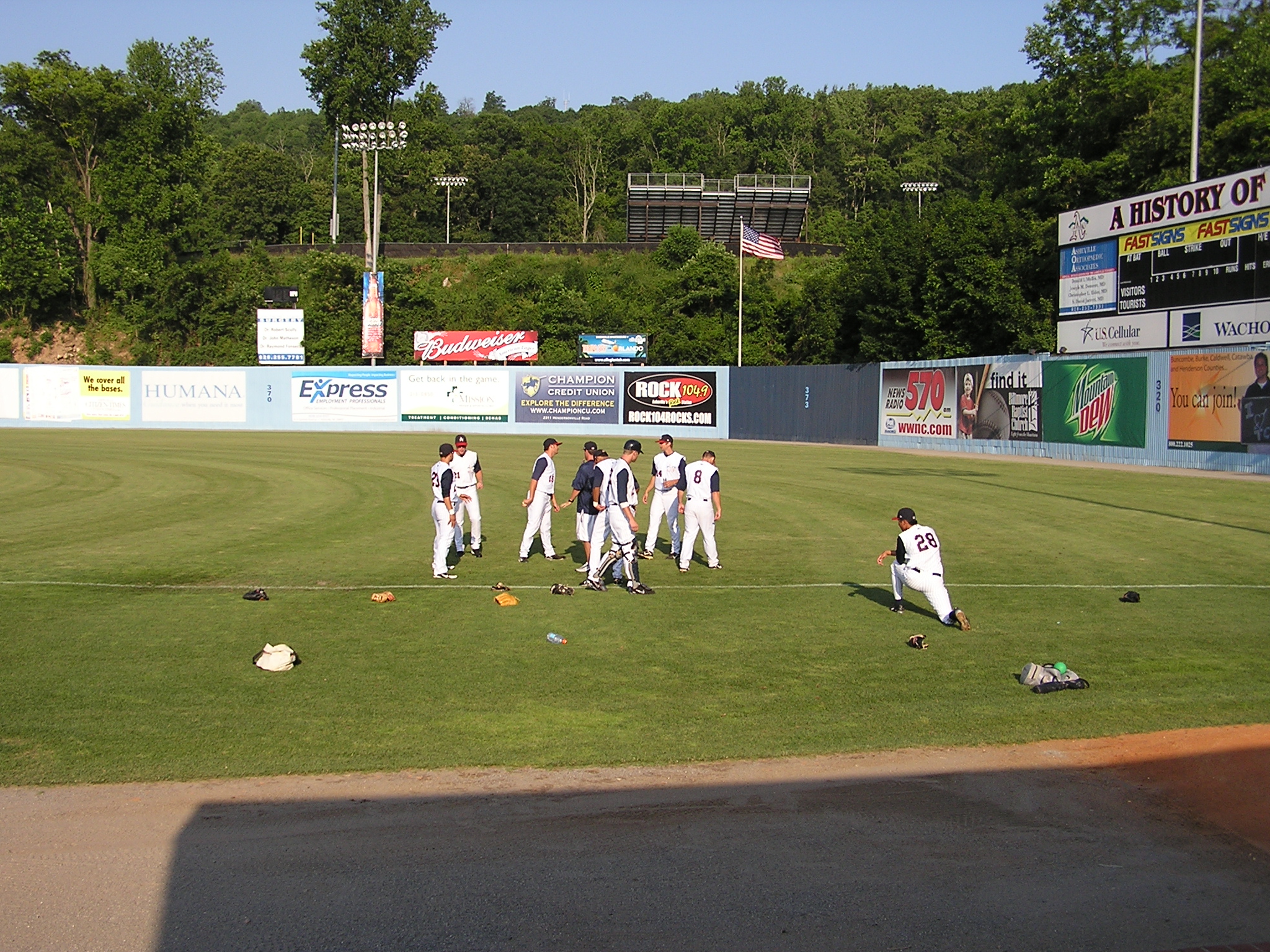 ASHEVILLE TOURISTS
6 Everth Cabrera 2b
23 Michael Mitchell cf
14 Brian Rike rf
8 Darin Holcomb 3b
21 Jeffery Cunningham 1b
9 Kevin Clark lf
10 Helder Velazquez ss
15 David Chrsitensen dh
27 Lars Davis c
28 Sheng-An Kuo p / WP
31 Randall Taylor S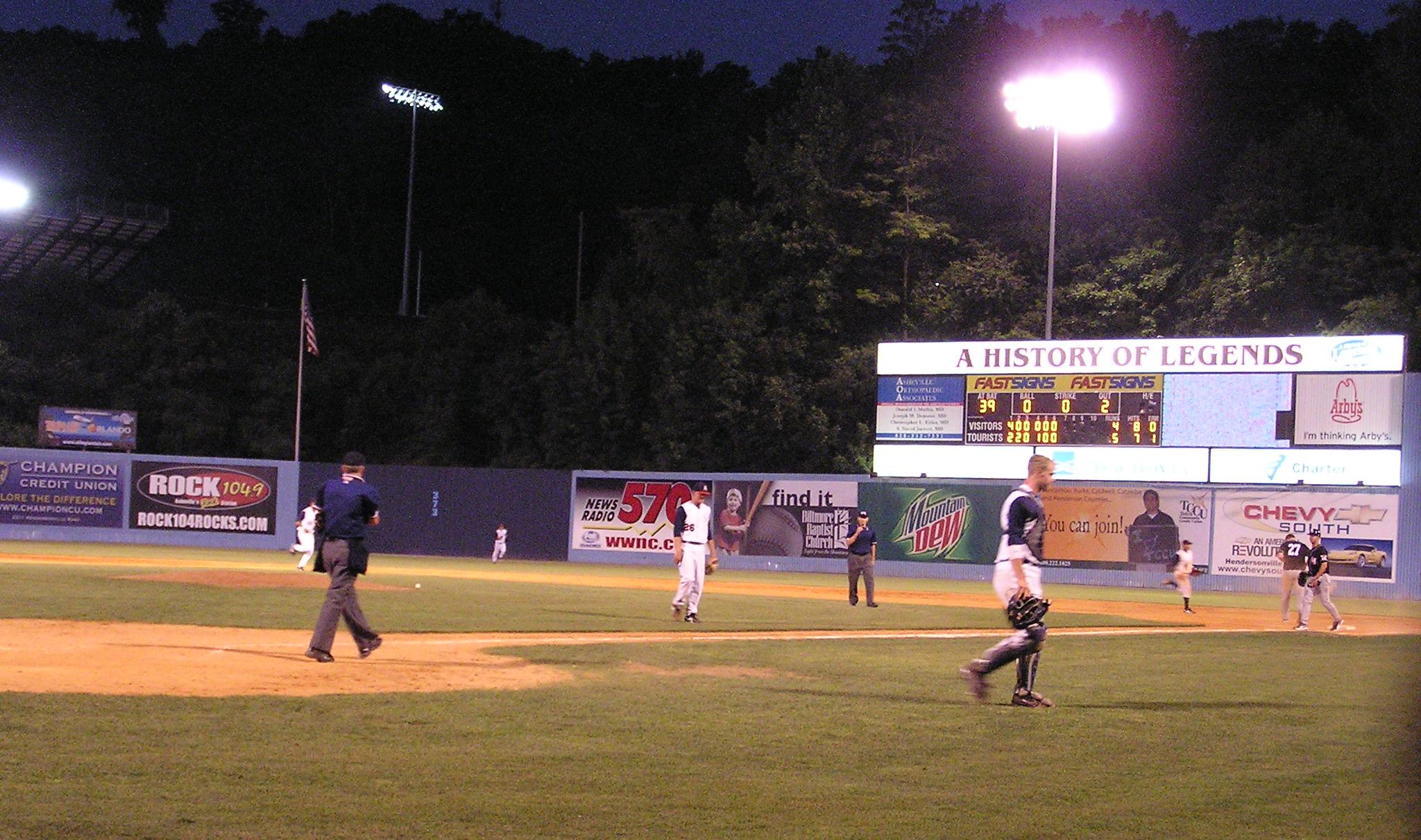 CRAWDADS 400 000 000 4 10 0
TOURISTS 220 100 00x 5 8 1
TIME ::: 2:43
ATTENDANCE ::: 3,541
WEATHER ::: 87 CLEAR / BREEZY
SEND ME AN E-MAIL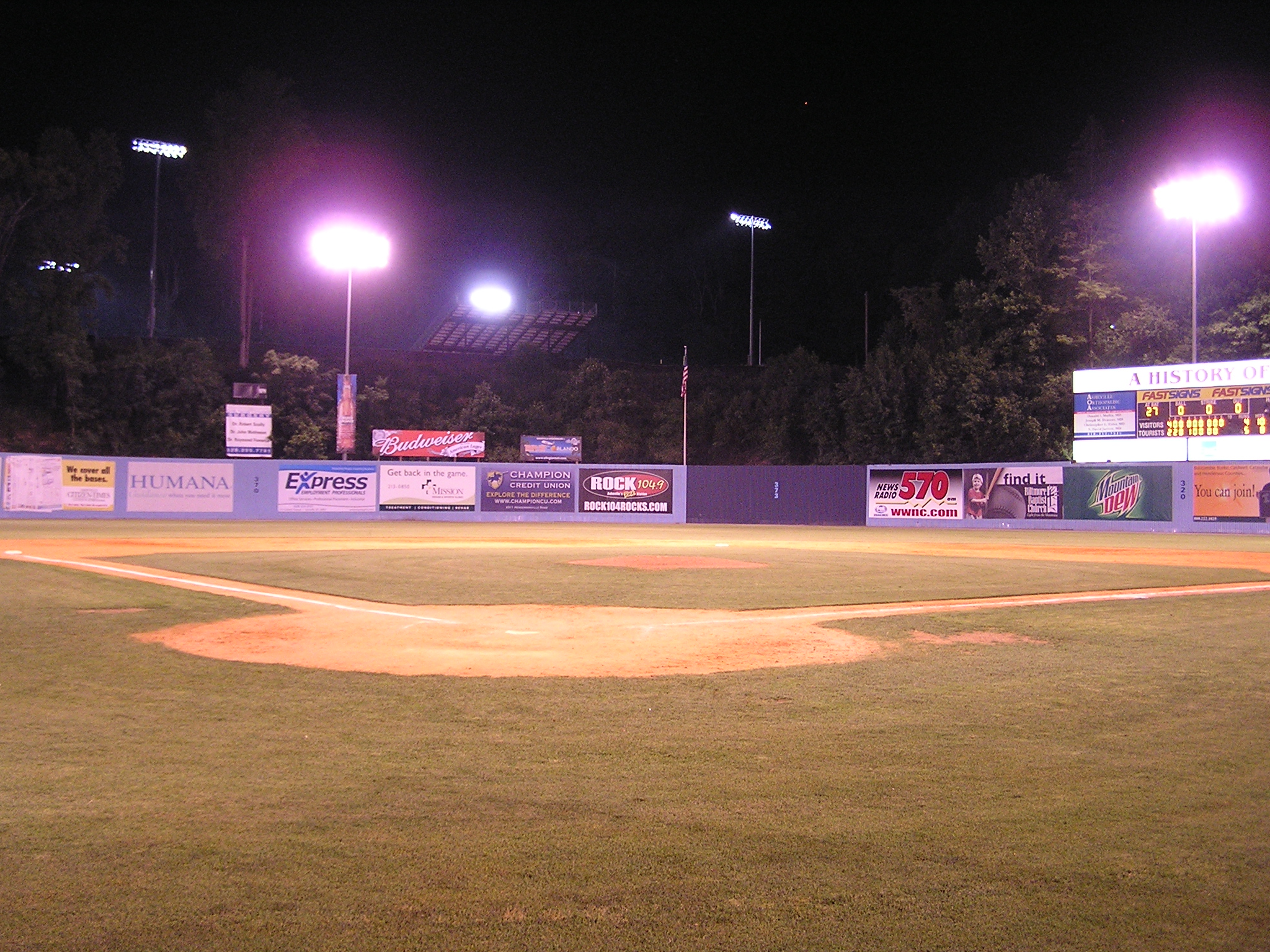 LINKS
The Official site of the Asheville Tourists
Asheville weather from WEATHER.com
Page last updated

© 2000-2012 UNCLE BOB'S BALLPARKS
I AM IN NO WAY AFFILIATED WITH ANY OF THE TEAMS ON THIS PAGE ... THIS
PAGE IS MEANT FOR INFORMATION PURPOSES ONLY.